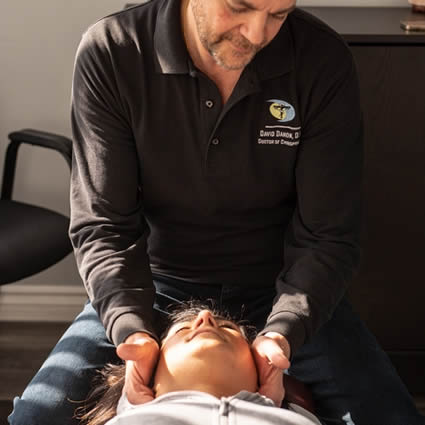 About Our Practice
Encino Chiropractor Dr. David Danon was a patient at his current office before receiving his Doctor of Chiropractic degree. After graduation, he decided to return, and has worked here since 2000.
Your Path to Natural Wellness
Our Mission
Our mission is very simple—help the client get better. When people come in, we work with them until they are out of pain and feeling better, and then discharge them. They know we are always available if they need us. We always strive to give our clients the best care.
MEET DR. DAVID DANON

Focused Care
Our practice focuses on helping clients achieve optimal health and wellness through natural and painless chiropractic care and other modalities. We believe in treating clients with compassion and respect, while providing the highest-quality care possible.
There is no cookie-cutter treatment here. The friendly and professional staff at our Encino and Glendale locations are committed to offering each client personalized and effective health care. We offer gentle
chiropractic adjustments
and other therapies based on the specific needs of each person.
Auto Accident and Personal Injury Care
Dr. Danon has specialized in auto and personal injury cases his entire career, and has suffered injuries in a crash too. That means his clients can be confident that he understands what they are going through and has the skills and experience to help them get out of pain, restore fitness, and be active again.
With a combination of chiropractic, physiotherapy, and other modalities, your care plan addresses the affected areas using natural and holistic methods of care. We continually assess your progress, making changes as necessary, so you feel better faster, and your body can heal as it is designed to do.
Whiplash injuries are the most common ones in an auto accident. Dr. Danon takes the time to fully assess the extent of your injury, and how it affects your neck, shoulders, and back. We will work with you to ensure recovery to the fullest extent possible.


About Our Practice | (818) 990-0036