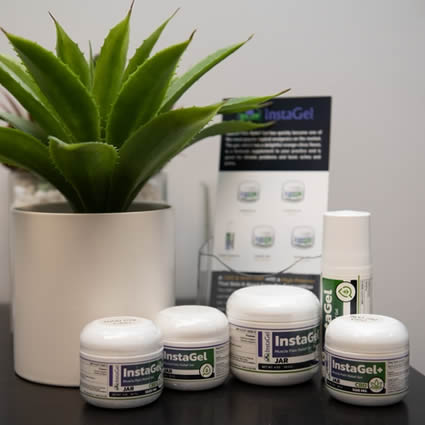 InstaGel® Muscle Pain Relief Gel in Encino
At our practice, there are several options available to help relieve your aches and pains. InstaGel Muscle Pain Relief Gel is a topical solution that clients have found effective.
A Better Way to Feel Better
InstaGel relieves minor aches and pains of muscles and joints associated with issues like arthritis and simple backaches. With a refreshing orange aroma, it absorbs into the skin quickly. Alcohol free, non-greasy, and non-staining, our formula is also free of NSAIDs, gluten, and 100% vegan.
Made in the USA, this product is non-genetically modified, lab tested, and verified third party tested, so you can feel good about using this product. InstaGel has unique warming and cooling ingredients to soothe your painful areas. It has quickly become one of the most popular topical analgesics on the market.
New and Innovative
The CBD sector is still in its early stages, with new products introduced regularly. This is beneficial for people who desire more choice and easier access to naturally produced products that can address a wide range of health problems.
There has never been a better time for those looking to experience the benefits of CBD. With so many alternatives to choose from, it is tough to know where to begin.
InstaGel comes in two formulations—CBD & Non-CBD—with a high potency that sets it apart from the competition. With its delightful orange-citrus aroma, it is a fantastic supplement to your routine and a great solution for chronic problems.
To learn more about InstaGel®, please visit their website.
Get the Natural Relief You Deserve
InstaGel will make a great addition to your care plan. Discover how it can help make a difference for you. Speak with one of our friendly staff members today for more information.
CONTACT US

InstaGel® Muscle Pain Relief Gel Encino CA | (818) 990-0036